I recently had the privileged of interviewing Josh Clark. I'm intrigued by his latest book, Accuser. I hope this interview sparks your interest as much as it did mine!
A little about your writing:
What is the title of your book?
The title of my newest book, and my first for adult readers, is Accuser.  It is a departure from my norm, as I have written for young adults in the past. (The Dakota Lester Series, The McGurney Chronicles)
Get us excited about your book! Tell us a little about it!
Accuser is a novel about the battle within all of us.  It begins with a man taking diner patrons hostage so he can force them to play a twisted game in order for them to earn their freedom.  He forces them to search the deepest dungeons of their souls in order to tell their secrets sins to the world.  The catch is—he already knows their dirtiest secrets.  That is really all I can say without giving the story away!
Who is your target audience?
I always struggle to answer this question.  "Everyone" seems vague and too all-encompassing.  This is a story about inner-turmoil and shame.  It tests the definition of "freedom" and speaks to the broken places of the heart.  At the same time, it is a fast-paced thriller.  It's gritty and real, so I wouldn't recommend it to middle schoolers.  I'll leave it at this: If you've ever struggled with something you just can't kick, and if you like a good thrill, this book is for you.
Where did you get the idea for the story line? Did it come from a personal experience?
This book is intensely personal, probably the most personal thing I have ever put to print.  At the same time, it is universal.  It speaks to the humanity in all of us and confronts us with the questions we don't want to ask ourselves.  I think all writing comes from personal experiences, and this book is no different.
Which character in your story do you relate with the most and why?
Definitely Sara.  She is me, she is you, she is all of us.  I think you'll see why if you read the book.  We see her inner turmoil, her shame, her guilt.  We see her at rock bottom, and she asks all the questions we've asked ourselves at some point.
If your book were made into a movie, who would you cast to play the main characters?
I think every writer has dreamed of his or her book being cast by big-name Hollywood actors, so this will be fun!
Sara Thompson: Is it too cliché to say Jennifer Lawrence?
Accuser:  Anson Mount
Greg: Ansel Elgort
Jessie: Jared Leto
Is there a message or lesson in your novel that you hope readers will grasp?
True freedom does exist.
What does your writing process look like?
My writing process isn't actually a process at all, really.  As a father of two kids under the age of four, my quiet writing time has evaporated into quiet writing moments—and I wouldn't trade that for anything in the world.  I mostly write when the kids are in bed or on Saturdays when my wife is home, too.  My marathon writing sessions are over, at least for now, at that is okay.  As long as I can sneak away from time to time to scratch the creative itch, I am more than content.
How important are names to you in your books? Do you choose the names based on liking the way it sounds or the meaning?
Name meanings are not all that important to me.  In fact, the only name in any of my books that is an absolute "must" is Accuser.  Readers will understand why as they read the novel—no spoilers here!
Do you have any crazy writing habits like wearing a special hat or taking breaks to stand on your head?
I don't really have any strange writing habits, but I used to cook an egg sandwich after completing a manuscript.  This tradition has fallen by the wayside, but it was a staple for my first three McGurney books—finish the last word, close the laptop and construct a perfect egg sandwich.  Why an egg sandwich?  Because it felt right, I guess.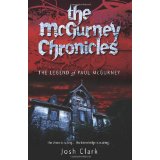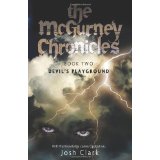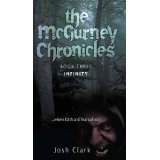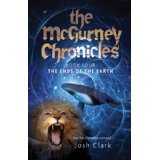 Do you ever experience writers block and what do you do to overcome it?
I don't really experience writer's block.  For me, the reason for setting a work aside is different.  When it feels like work to write, I set it aside and begin something else.  I don't like to force anything.  I think strained writing is poor writing because you are only pushing through to get to a certain word count or chapter break.  When it feels like work, I put it aside and open a fresh page.  Right now, I have four different projects going.  When I feel like one is getting to feel like work, I set it aside and work on another.  It's really quite fun to see the manuscripts grow little by little.
How old where you when you realized you wanted to be a writer?
I was in first grade when I realized I wanted to be a writer.  All the other kids wanted to dress up like football players or superheroes for Halloween, and I wanted to dress up like an author.  To me, authors were superheroes.  Every spring, the elementary school I attended would bring in an author to speak to us, and I was captivated.  I remember getting my a book autographed by Gail Gibbons and feeling like I had just won the lottery.  I credit my first grade teacher, Mrs. Judy Rand, for recognizing my love for reading and writing and fostering my curiosity in the craft.  She entered me in a children's writers competition and would come in on Saturdays to help me craft a book fit for entry.  My first attempt at a literary masterpiece was The Deer's Dreams.  I even got to illustrate it!  Even though I didn't win, I can point to my experience writing the book as the reason I am still writing today.  The process was exciting and allowed me to explore my creativity in a way I never had before.  I still feel the same about the writing process at thirty as I did at six.  It's the same thrill, the same anticipation for what might come next. 
What is your least favorite part of the writing process?
I don't like editing and rewriting.  Not. One. Bit.
What writing projects are you currently working on?
I'm currently putting the finishing touches on a coming-of-age novel about baseball called The Streak.  I'm excited about it because it is the first time I've ever written about the sport I've loved since T-ball.  It follows an eighteen-year-old prospect stuck in Ohio after he is passed over by colleges and pro scouts alike.  I'm also (slowly) working on the last book in The McGurney Chronicles series called Ten Thousand Strong.  It will pick up right where the fourth book left off.
What advice would you give to aspiring authors?
Write. Read. Write. Read. Repeat.
If you don't find time to write, you can't and won't be a writer.  Everyone has a story to tell, but few ever take the time to put their respective stories on paper.  Don't get discouraged by rejection or failure.  If you don't fail or get rejected, you aren't trying hard enough.
A little about you:
Do you have a favorite author or an all-time favorite book?
My favorite author is John Steinbeck.  I love the way he wrote about humanity and human nature and how his descriptions aren't cumbersome but captivating.  He authored my favorite book, East of Eden.  The allegorical nature of the novel is genius, and the fact that this was the novel he considered his magnum opus makes it well worth reading, in my opinion.  The man wrote The Grapes of Wrath and Of Mice and Men, and he considered East of Eden his most important work—how cool.
Among your favorite books, which fictional character do you relate to best and why?
This question is too hard.  It is giving me a headache.  Too.  Many. To. Choose. From.
If you were a super hero, what would your name be? What would your costume look like? What would your super power be?
I would definitely be Dad Man.  My costume would consist of spit up on both shoulders, soggy Cheerios on the bottom of my socks and bottle of Windex to clean up all the baby-licked windows.
What do you like to do when you're not writing?
I love rolling on the ground with my kids, playing guitar, running and eating Peanut Butter Cap'n Crunch.
If you could travel anywhere in the world, where would it be and why?
I have to go with London.  There's too much literary history there to not visit at least once.  Yes, I'm a nerd.
What three words would you use to describe yourself?
Punctual. Optimistic. Hubby-and-Dad.
What is something interesting about you that most people don't know about?
I like popcorn popped using coconut oil.  I also can say all the presidents in order in under thirty seconds.  (Thanks, Mrs. Fish!)
Thank you, Josh!