Today I have the privilege of introducing you to author, Andi Cumbo-Floyd! I hope you enjoy learning about Andi as much as I did and that you'll claim your copy of Steele Secrets today!
Andi, your new book, Steele Secrets is scheduled to release on February 9th! Tell us about it!
OOH, I'm so excited.  Steele Secrets begins when 16-year-old Mary Steele mysteriously finds herself in an abandoned cemetery near her home.  While she's there, she meets the ghost of a slave, Moses, and together, they begin a journey to fend off bulldozers, battle racism, and save the cemetery that is – unbeknownst to Mary – so important to both of them. 
Was there something specific in your life that inspired this story?
Well, the idea of the book came when I was visiting the graveyard of my husband's father's family in Buena Vista, Virginia.  In that cemetery, there are many unmarked graves, which is unusual for a church cemetery, so I was reminded of the slave cemeteries I know, where only simple field stones mark peoples' graves. 
That got me thinking about all the African American cemeteries that I have heard about being destroyed because of apathy or malice.  And so I combined those two ideas and wrote Mary's story, a fiction drawn from fact, I guess you could say.
They say authors leave traces of themselves in their stories. Do you think this is true? If so, what traces of yourself did you leave in Steele Secrets?
What a great question.  Well, Mary is much like me in some ways . . . personality-wise at least.  Although she is much more self-assured than I was at 16.  But her love of overalls and tendency to play with her hair when she's nervous – that's all me.
There's also a lot of genealogy in this book, and some of the story I'm telling here is drawn from people I've come to have the honor of claiming as my own over the past few years.  I don't want to say much more about that, though, because, well, "spoilers." 
How long did you carry this story around in your head before getting it down on paper?
That's a tough question for me to answer about any book I write.  My books seem to build themselves partially before I'm even aware of them, pulling their frames together from my experiences and questions before I'm aware that any structure is being put together.  So my conscious experience of writing this book is that it was a short time between my visit to the Floyd cemetery at Neriah Baptist, but I think I've been working on the ideas in this book since my previous book on slavery, The Slaves Have Names, was published was in 2013.
What can your readers expect from you next?
I have three projects that I'm considering for my next book.  One tells my family story, the one I alluded to earlier.  The second is a book about an enslaved community in a nearby county, but I will need far more research to do that one well.  The third is the most likely candidate – a book about the farm we now own in Madison County, Virginia.  13 people were enslaved here in 1850, and I'd like to spend some time getting to know those people and the people who enslaved them. . . . but whether that will be fiction or nonfiction, well, that I don't know yet.
What does your writing process look like, do you have any crazy writing habits like wearing a special hat or taking breaks to stand on your head?
I have far too much hair for hats, and I really only stand on my head when I trip, which is surprisingly often. J  I typically start my writing practice with a poem. I read the poem and then copy a line that resonates with me over to my journal.  Then I just freewrite until something comes to me.  For a book, that means I write some of the book until it begins to flow, and then I move to my computer because it's faster.
What books are on your "waiting to read list"?
I imagine you don't have space for the 4 bookshelves in my house that serve to hold those titles, so I'll just list a few.  I have Brown Girl Dreaming by Jacqueline Woodson up as the book I will begin as a gift on the day Steele Secrets launches.  And I'm eager to read The Highly Sensitive Person, too, because I am and need wisdom about how to manage my world a bit better.  Then, I want to delve into Rebecca Solnit's A Field Guide to Getting Lost. . . I could go on.
If you were to host a meal for your favorite authors (dead or alive), who would be on the guest list?
OOH, fun!  C.S. Lewis because he has shaped my idea of story and faith since I was a child. Anne Lamott – who I would sit next to Lewis just for fun – because she has shaped my faith and my desire to be brave in my writing.  Nikky Finney because her ability to craft poems that crack open ways of seeing pain have changed me. And Salman Rushdie because I'd really like to have a dinner table conversation about how a writer chooses snot as a vehicle for a supernatural ability.
What question have you always wished someone would ask you about your writing but no one has?
What does writing make you feel?  Peace.  I don't ever feel as deeply at peace as I do when I'm settled into a writing moment. . . and that peace lingers long beyond the moment I lift my hands from the keyboard.
This is THE most important question! Tell us what we could expect if you woke up tomorrow as a superhero…
I would be BookWoman . . . and I would wear tights, long skirts, funky sweaters, and rockin' glasses.  (So a librarian, but in those super-cool clothes that look like they came from Goodwill but actually cost about a bazillion dollars).  My symbol would be a book spine, of course. . . and my super power would be the ability to read quickly, to recommend books with the astuteness that Modern Mrs. Darcy has, and to remember everything I read word for word so that I could throw the perfect quote out and awe both Rushdie and Lewis in the same moment.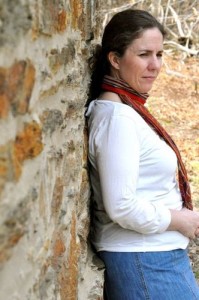 Andi Cumbo-Floyd is a writer, editor, and farmer, who lives at the edge of the Blue Ridge Mountains with her husband, 4 dogs, 4 cats, 6 goats, and 23 chickens.  Her previous books include The Slaves Have Names and Writing Day In and Day Out, and her new Young Adult novel Steele Secrets is coming out on February 9th.  Connect with Andi and pre-order your copy of Steele Secrets at  andilit.com!