Today I am excited to introduce you to Joey and Carla Link, authors of  Taming the Lecture Bug and Getting Your Kids to Think and Why Can't I Get My Kids To Behave? If you're a parent, or plan to be one day, this interview is  for you!  Also, Joey and Carla are giving away an autographed copy of each of their books! You'll find instructions on how to win at the end of this interview!
Joey, Carla, start by telling us a little about yourselves and your family.
We have been married for 38 years. We have three adult children. Our son and his wife have given us two delightful grandchildren. Our 4 1/2 year old grandson will tell you one of his favorite things is "Papa Adventures" and his 2 1/2 year old sister loves "Papa Time" which is another way of saying "Tickle Time"! Our kids live in Chicago, Dallas and NE Ohio so family time is most precious to us as we all get together only a couple times a year.
We travel full-time with our parenting ministry. We didn't homeschool our kids, we "road-schooled" them!  When we are home, we teach weekly parenting classes in our community. We also look forward to pursuing favorite hobbies. Joey loves to play baseball and enjoys working with wood and has made beautiful pieces of furniture. Reading and scrapbooking are my favorite things to do to relax.
I'd like to know about your own parenting experience, when you realized there was a need for this type of ministry and how you got started down this path.
Joey served as a youth pastor for many years when we were first married and it didn't take long for us to realize we could see teens make changes in their lives based on biblical principles, but unless their home life changed, the good changes in them soon disappeared. Our kids were toddlers and preschoolers at the time, so the parents of the teens we worked with didn't think we had any credibility or wisdom to share with them.
Back then, "family" ministry was a blip on the horizon. So when a church in Iowa called and asked us to come on staff as "Youth and Family" pastor we jumped at the chance. As we lived in Southern California at the time, every area of our life changed when we moved to the Midwest.
We started teaching in the Young Married Sunday School class with a handful of couples that quickly grew in numbers. Joey looked for a pro-active parenting curriculum and was referred to Growing Families Int'l and their parenting course, Growing Kids God's Way. When he first went through the material, he was a bit skeptical about its potential, but I persuaded him to let us try it at home on our then 8-year old son who was strong-willed and defiant as I was weary from dealing with him.
At that time, most would tell you the Bible didn't have a lot to say about parenting. This course was different in its approach, for its premise is the Bible does have a lot to say about growing in Biblical character, and it is the parent's job to instill this in their children.  We were so encouraged by the behavior of our children when we changed our perspective about how we presented Godly character to them, we started teaching parenting classes using this material with great success in the church and community.
Tell us about your latest book, Taming the Lecture Bug and Getting Your Kids to Think.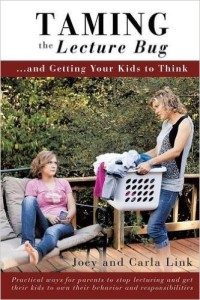 The key to the book is not just sharing advice on how to stop lecturing your kids, but rather what to do instead. Getting your kids to think for themselves is the heartbeat of this book, for when your kids do their own thinking in a positive way, parents will have no need to lecture, threaten, remind, or bribe them.
Tell us about Why Can't I Get My Kids To Behave?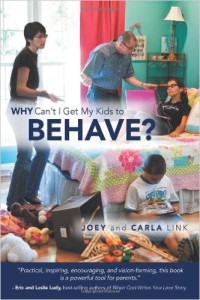 There are many parents today who don't think kids can obey and that's sad. Of course kids can obey, or God would not have told them to "obey their parents in everything, for this pleased the Lord." (Colossians 3:20) There are also many parents who want a quick fix when it comes to getting their kids to behave. There are none of these either. Why Can't I Get My Kids to Behave? shares with parents what obedience training looks like and how to do it.
It also tells what parenting tools most parents use that aren't working and what to replace them with that does work. Every chapter of both our books ends with a testimony from a family who has used the book's information to encourage parents the information they have just read really does work. This book has over 100 5-star reviews on Amazon!
I'm certain you hear from parents who have read your books and learned from your teaching, would you share your favorite testimonial with us?
"Your teaching has made all the difference in our parenting! I soaked in the wisdom shared in your book, "Why Can't I Get My Kids to Behave?"  I needed practical ways to balance encouragement with correction that were neither too harsh nor too lenient.  I recommend this book to every parent who wants to be a better mom or dad."
 This testimony, written from someone in upstate New York is a favorite of ours because we liked the fact parents find our teaching balanced and encouraging.
 Your teaching is known for "making parenting practical", can you give us an example of this?
In Ephesians 4:32 we are told to be kind to one another.  It doesn't say "unless you are in a bad mood" or "unless your sibling hit you first," it says to be kind. The mistake we as parents make is to assume our kids at every age know what "kindness" looks like. To make biblical teaching practical or "do-able" to kids, parents need to work with them to come up with a way to put it into practice. Once kids understand what a biblical value means and why they need to base what they do on them, it doesn't matter how old they are, they can find ways to show these values to others. When I ask our 2 ½ year old granddaughter to tell me a way she can be nice to her brother, it doesn't take her long to come up with one.
The problem with making biblical principles practical in the lives of our children is it takes parent's time and energy and we are all busy people. We try to encourage parents to picture themselves sitting at the feet of Jesus one day trying to explain to Him why going to soccer tournaments was more important than taking the time to train their children in the values of Godly living.
Tell us about the Mom's Notes:
 We are celebrating the 20th year of the Mom's Notes. I would get asked to speak at Mom's groups when Joey would be teaching leadership training seminars for another organization. Both of us always have more information to share than time, so I was asked to put the sessions on paper (pre-personal computers and tablets). This is how they got to be named the "Mom's Notes". It was not long after this we were again asked by almost all who heard me speak to put the presentations in audio format so they are available on CD or MP3.
In each session, we share practical examples for toddlers through the teen years as God's character values look different not in the "why" we need to do it but in the "how" it is done. While I teach most of the sessions, Joey and I wrote them all together. There are 40 sessions! At the beginning of this ministry I am not sure I thought there were that many parenting topics to talk about!
Carla, how have you seen benefits in your own family by living out Titus 2:5
Well, this is not an easy question to answer so I asked my daughters what they thought. They said first of all, I showed them how to be a child of God, a wife and mother. One of my daughters said she remembered a time her dad was tired, cranky and out of sorts for a few days. She found me sitting at the kitchen table writing in cards. She asked who the cards were for and I told her they were for her dad. I was trying to encourage him by letting him know in each card things I appreciated about him and I was going to put them in places I knew he would find them unexpectedly. She asked me to take her to the store so she could get a card for him too, so she could let him know in a special way she loved him.
Before they left for college, I made sure they knew how to manage a home, including making menus and shopping for food.
They both said they were glad I taught them how to lead a Bible Study group and how to disciple and mentor gals who were younger than they were. Learning to put the needs of others before their own is now a natural part of who they both are. They both said I taught them more by doing than talking. While they were growing up, whatever I did I included them too. If I was working with a mom, I had them plan activities and games for them to do with the mom's kids. Learning by doing – this is what I believe Titus 2 is all about.
Joey, I hear moms complain about their husbands not being an active participant in their children's rearing and discipline. What advice or challenge would you give to these dads and what advice or encouragement would you give to these moms?
People in the workforce today work long, hard hours and often have to travel. It is difficult for dads to transition to home life at the end of a long, hard day at work. I spend a lot of my day counseling parents, and at times have trouble leaving their problems in my office (at home). Carla and I had to come up with a non-confrontational way for her to tell me I needed to go to our bedroom and take a few deep breaths and leave the work day there. I knew when I walked out the door and I needed to have my "Hubby" and "Daddy" hats on.
The other reason men don't participate in parenting is they don't feel their help is needed or wanted by their wives. When moms criticize their husband's efforts to correct the kids in front of the kids, they are ripping their man's "authority" hat off his head and the kids know it. When wives ask their husbands for advice on how to handle a parenting situation, they might be surprised when he starts asking her what he can do to help her with the kids.
One of the best ways dads can encourage their wives is to let the kids know they will not tolerate them being disobedient and disrespectful to their wives. When dads do this, they are letting their children know the marriage relationship takes priority, as it should. We have a great Mom's Notes presentation titled "Parenting as Partners" that gives perspective to parents on how to parent on the same team.
Between Why Can't I Get My Kids To Behave? and Taming the Lecture Bug and Getting Your Kids to Think, which proved to be more challenging to write? Why?
Definitely Taming the Lecture Bug and Getting Your Kids to Think. We were working hard to meet a publishing deadline when we pulled the book. Both of us had a nagging feeling something was missing. A couple months later Joey sat down and re-wrote the "…Getting Your Kids to Think" part in one night. When I read it, I got goosebumps because I knew it was what God wanted us to say. We were excited to learn Taming the Lecture Bug and Getting Your Kids to Think recently took 1st place in the parenting category of the 2015 Christian Author Award!
Are there other topics you hope or plan to write about in the future?
We have just started a new book titled "Dating, Courting and Choosing a Mate…What Works?" Joey wrote this during his years as a youth pastor and this information has stood the test of time. The DVD taping of us teaching this should be out before summer, so we are trying to get the book done so it can be released at the same time. After that "It's All About Attitude" is on our agenda and we have often been asked to write about our experience trusting and honoring God after a debilitating car accident we were in several years ago.
If you could only give one nugget to advice to a new parent, what would it be?
If you are married, don't parent alone. It took both of you to have kids, so you both are responsible for raising them. Go on dates and talk about your kids and what you need to do to better work together to raise them for the purpose and goal God gave them to you for. Your kids are not trophies for you to show off; they are God's treasures to reflect His glory to the world.
Secondly, don't be afraid to ask for advice. When you ask for advice, it means you are going to do something about the situation you are asking about. Moms often see this as failure on their part. It's not. It just means you have run into something you aren't sure how to handle. When you need advice, look for someone whose kids you admire and who can share from their well of encouragement and experience.Venting with peers is not asking someone older and wiser for advice.
Joey and Carla Link are known for making parenting practical. Joey's pastoral experience is in youth and family ministry and Carla's degree is in social work. Together, they have served in partnership with an international parent ministry and are the Directors of Parenting Made Practical. They are authors of "Why Can't I Get My Kids to Behave?" and the award winning "Taming the Lecture Bug and Getting Your Kids to Think".  Their "Mom's Notes" presentations have helped countless parents for 20 years. They are the parents of three adult children and have two grandchildren.  www.parentingmadepractical.com
BOOK GIVEAWAY!  Joey and Carla are giving away an autographed copy of each of their books! For a chance to win,  leave a comment below and then "like" the Parenting Made Practical Facebook page. The contest ends at midnight on Wednesday, February 24th. Winners will be announced on my Facebook page on Thursday, February 25th! "Like" my page or subscribe to my blog for more author interviews and book giveaways!