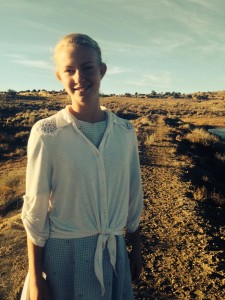 This week I would like to introduce you Madeline Brock! Madeline is twenty years old and loves life, her family, and the Lord. Raised in rural Ohio, Madeline is the oldest of five children and enjoys music, cooking, and hiking. She is finishing up two years of service in New Mexico with the Navajo people. She will be returning to Ohio, reuniting with her family, and awaiting the adventures God will take her on next!
Madeline, today we're highlighting your book,  Tatiana, book one of the Upward Way Chronicles; tell us about it…
Tatiana is a coming of age story about a young woman growing up in 1840s rural Pennsylvania. She is headstrong and mischief prone. Tatiana starts out as a spoiled brat and ends up a confident young woman. But between point A and point B there is a story of adventure, romance, and forgiveness. It is a tale of a determined young woman finding her way in the world.
Where did you get the inspiration for the story line?
I was inspired to write this book after reading some of the work of LampLighter Publishers. It is a company that finds old Christian books from centuries past, restores them to their former glory, and re-publishes them. I loved the richness of the language, the stories, and the characters in those books and wanted to write something with similar depth. The storyline itself came from my imagination, but many of my characters are the embodiments of people who are dear to me in my own life.
Which character do you relate the most to and why?
Certainly Tatiana! She is like me in so many ways, including her spoiled childhood. I can't say that I've matured to the same degree that she has, but I have shared many of the same struggles and insecurities.
Do you have any crazy writing habits?
I'm a pacer. I'm surprised I haven't worn a track in the carpet yet. I also get over writer's block by talking to someone about my book. They don't necessarily even have to say anything. Just having someone listen helps give me ideas.
What writing projects are you currently working on?
I've currently been working on the third and fourth books of this series. I don't generally work on more than one at a time, but these two mesh enough that it's more practical. It's so exciting to see my timeline, characters, and historical events coming together!
What question have you always wished someone would ask about your book?
Good question! I've been asked a lot of things. I guess I've always wanted someone to ask where I get ideas for my situations in my story. Because that way I could tell them that I can't take much credit for it. I have so much support from my family and friends and have had countless brainstorming sessions with different people. Sometimes it's in person, over the phone, by e-mail, or via text. I've been given tons of ideas and I love finding ways to work them into the puzzle and bring them alive!
Do you have a favorite author or all-time favorite book?
One of my favorite books is the classic: Little Women. It's such a timeless story! I love the setting, the romance, and how Louisa May Alcott so beautifully portrays the inseparable bond of sisterhood.
Among your favorite books, which fictional character do you relate to the best and why?
Probably Jo March or Anne of Green Gables. I'm a stickler for the classics and they never fail to speak to me. Both characters are writers and both are very independent in their own way. I love how they are so alive, sincere, and transparent. I've tried to capture some of that attitude in Tatiana.
If you were a super hero what would your name and super power be?
Oh wow, I've never really thought about it. "Maddy the Magnificent!"
I always thought it would be fun to be able to teleport so I could travel to any place I wanted to be. Imagine the research possibilities! Roman ruins? Be right back! The Library of Congress! I'm already there.
What books are on your "waiting to read list"?
Right now I'm working my way through The Zion Chronicles by Bodie Thoene. The books are centered on the Jewish people and the Middle East shortly after the Holocaust. The research Thoene puts into her books is incredible!
The mission: tell us where you're living, what you're doing, and how you've seen God working in and through you?
The Torreon Navajo Mission is located in an isolated area of northwest New Mexico. The Navajo reservation is only about an hour away from Albuquerque, yet the conditions here are often more similar to a third world country. I will be here at the mission for a few more months before returning home.
In the two years that I've been serving here, most of my time has been devoted to teaching in the school that is here for the Navajo children. Most of them are from broken homes and abusive situations. My time spent here has been more challenging than anything else I've ever faced, but it has also been a great blessing.
I haven't witnessed any great miracles over my time here but I have seen Gods faithfulness in the small things. He has transformed a foolish young girl into a vessel fit for His service. There have been times when I could only rely on Jesus to help me love those I thought were unlovable. My prayer is that even if my students don't remember anything else I have taught them, they will remember the powerful, saving love of God.
Thank you, Madeline!