Today I have the privilege of introducing you to author, Keri Nicole Aeschliman. This young lady is such a sweetheart. I hope you enjoy getting to know her as much as I did! And, as if getting to know Keri wasn't enough ~ there's a bonus! Keri is offering free shipping, through her website, on orders of In Paths of Righteousness through May 9th! You can get your copy at www.storiesbykerinicole.com !
A little about your writing:
Tell us a little bit about your book, In Paths of Righteousness.
This Christian novel is set in a small Minnesota farming community in the late 1800's. The main character, David Riley, is an enthusiastic, hardworking young man of sixteen with an appetite for adventure…and for truth. Being raised in a family where religion was nothing more than a deeply rooted tradition—but one that none dared to challenge—David finds himself struggling in vain to ever be good enough to please God; and his constant battles with the bully at school bring out the worst in him. Meanwhile there is a mysterious wives' tale in Detweiler about a crazy old man, a black wolf, and an albino red‐tailed hawk. The thrill of the unknown sends David on an adventure to try to figure out the real story. But what he discovers will change his life in more ways than he ever could have imagined.
Where did you get the idea for the story line? Did it come from a personal experience?
The time period that I chose for this story has always been a favorite of mine, influenced largely by a childhood fascination with Little House on the Prairie, as well as years of working at a historical village. The spiritual struggle that David faces in this book is a reflection of a lot of things that God has taught me in the past few years. But overall, the story line came out of my imagination, with help and suggestions from several family members.
Which character in your story do you relate with the most and why?
I relate the most with David because of the similarities between the story of David's redemption, and how God has worked in my own life.
How long did you have the idea for In Paths of Righteousness in your head before getting it down on paper?
This book was written over a period of 3 ½ years and began as a simple writing assignment during my freshman year of high school. It started out a very shallow story without much excitement. As I began to work on it, the story line grew and I started getting more and more ideas for how to improve it. I continued working with the story off and on until I finally finished writing it after my graduation. So in a way, you could say that I was already putting it down on paper before I actually knew what I was doing!
Is there a message or lesson in your novel that you hope readers will grasp?
Yes. My prayer is that readers will be challenged to think about whose righteousness they have put their trust in. Christ's, or their own? David comes to realize that, try as he might, he will never be able to do enough to save himself and that only what Jesus has done for him can make him right with God. I also hope that readers are inspired by David's courage in standing up for what he believes, and that they are challenged to do the same.
Do you have any crazy writing habits like wearing a special hat or taking breaks to stand on your head?
Nothing quite like that I guess. 🙂 I write the best outside on a nice day, with just a notebook and pencil. If I'm experiencing writer's block, I usually get hungry. Funny how that works.
What writing projects are you currently working on?
Right now I am in the beginning stages of a sequel to In Paths of Righteousness.
A little about you:
Do you have a favorite author or an all‐time favorite book?
One of the best books I've ever read was I Dared to Call Him Father by Bilquis Sheikh. It is a very powerful story of a Muslim woman's encounter with God. In high school I really enjoyed a series called The Archives of Anthropos by John White.
What books are on your "waiting to read" list?
Wrestling Prayer by Eric & Leslie Ludy, God's Double Agent by Bob Fu, and Rescue the Captors by Russell Stendall.
What do you like to do when you're not writing?
I love working on our family's farm and spending time with friends. I also enjoy music, gardening, baking, playing games, square dancing, and campfires.
What three words would you use to describe yourself?
Happy, gentle‐spirited and hard‐working.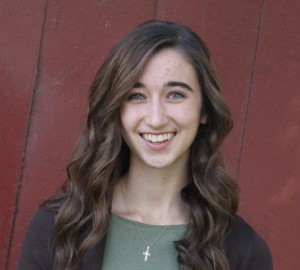 Keri is 20 years old and lives on her family's farm in rural Ohio. She enjoys helping with planting, harvest, bookkeeping, and everything else that comes along with farm life. A 2013 homeschool graduate, she has two awesome younger brothers, wonderful parents, and great friends that she loves spending time with. Keri is thankful for the influence that her book has already had and hopes that God will continue to use her writing skills for His glory.
To find Keri online, you can visit: Stories by Keri Nicole on Facebook
To order a copy of In Paths of Righteousness, visit www.storiesbykerinicole.com 
You can check out Keri's blog at www.storiesbykerinicole.blogspot.com