I found myself smiling (and chuckling) as I read over Mary Mueller's interview…what a gem! I hope you enjoy getting to know her as much as I did! Thank you, Mary for being so authentic.
A little about your writing:
What are the titles of your books?
Stargazer ("autobiography" of Mary, Mother of Jesus); The Ryersen Trilogy: Book 1: The Redemption of Matthew Ryersen; Book 2: Mirror Images; Book 3: Burnt Offering.
Get us excited about your books. Tell us a little about them!
Stargazer is written in first person with Mary, Jesus' mother, as narrator. It takes us from her girlhood through her marriage to Joseph, the births of their children, his death, then the more familiar story of the life of Jesus and His followers, including His brothers and sister. The story continues after the resurrection until Mary herself is near death from old age, covering the spread of the church with the disciples, Paul, etc. This is a love story, really, and it makes the familiar characters throb with life. Readers usually say, "I will never look at Jesus and this story the same way again!"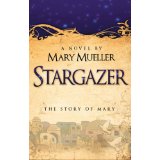 The Ryersen Trilogy is a contemporary series set in the farmland of Northwest Ohio. It follows Matthew Ryersen as he struggles to find love and hope and family – and God. Matthew's traumatic past makes it hard for him to trust, and he struggles to accept Will, the son he abandoned before he was born. Will is angry and distrustful, too, but comes to love his father. Then, in Mirror Images, father and son struggle to live together in a healthy way. Will is bullied in high school to the point of suicide but survives to grow up and carry on his life's journey, including the quest for God and the surrender to His love in Burnt Offering. In the end, three generations of Ryersen men are saved and able to live in God's love.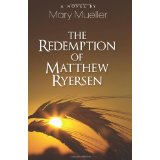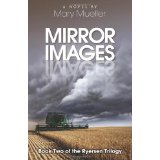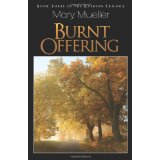 Who is your target audience?
I hope these stories will reach adults who don't yet know Jesus, as well as those who do. The books aren't "preachy" and reflect the realities of the world, so they can be read by non-believers without making them wince. However, they are Christian fiction and, as such, hold to moral standards and decent language.
Where did you get the idea for the story line? Did it come from a personal experience?
When I was young and unsaved, my goal was to write romance novels, the steamy kind. God intervened in my life, so the goal changed. But I still only write love stories. The bottom line, of course, is God's love.
Stargazer was a gift from God when I did a particular thing in obedience. It just happened. I had no idea I was going to write a book – certainly not this one! I am not a biblical scholar and had no particular desire to write biblical historical fiction. I just put the pen to the paper, (literally), prayed for guidance, and wrote. The story outline is pure scripture; the character development and some of the minor characters are my invention.
The Ryersen Trilogy is based a great deal on personal experience. The first part of the first book was originally written as an allegory for Pastor Appreciation Day to express my gratitude to the pastor and the church for taking me in when I came, 49 years old, a convert, with no idea what I was doing. Then someone asked, "Where's the rest of the story?" One book turned into two, and then into three before I was able to finish. Many of the characters reflect my life and/or the lives of people dear to me. I have certainly led these characters' lives – abandonment, fear, searching for God, alcoholism, abuses, homelessness, suicidal plans, parenthood, rebellion against God – well, most all of it to one degree or another. God has been merciful to me and dragged me (often kicking and screaming) out of more than one slimy pit and into fellowship with Him and His people. That all happens in the books, too.
Which character in your story do you relate to the most and why?
I relate clearly to Mary, mother of Jesus, in Stargazer. She's a mother and a meddler, and so am I. (My sons will say I wrote myself – and them!) In The Ryersen Trilogy I relate most to Matthew Ryersen. It's a bit odd for a 70-something fat old city woman to write herself as a 30-something anorexic farmer, but there it is. All his pain, all his flaws, all his hopes and dreams and passions – they're mine.
If your book were made into a movie, who would you cast to play the main characters?
I've been asked this question before, and I don't go to enough movies to know. Certainly, for the adult Mary, I'd choose Meryl Streep. Jake Gyllenhal has some potential as Matthew, but that's not quite right…
Is there a message or lesson in your novel that you hope readers will grasp?
I hope readers will always come to the end of the story knowing God is real, He loves them, He wants to be in a close relationship with them. There is always hope as long as someone is breathing!
What does your writing process look like?
My process has changed from book to book. Stargazer was written totally by hand. I sat in the recliner in my living room with a pad of paper and a ball-point pen, writing so fast it was terribly scribbly, tearing off pages as I finished them and throwing them on the floor. Every few days I would transcribe those pages into the computer, editing as I went. Then I printed out and edited the whole thing.
Today, I compose on computer everything except the play-scripts I do for church. (Those remain hand-written, usually.) I still don't edit as I go, but rather go back over the material later.
Part of the process for me is having readers, who get the manuscript either as I go or when I've finished to critique it and to give feedback. I have a couple of readers, in particular, who have been tremendously helpful with plot and character issues. No way could I come to a finished product without their help!
How important are names to you in your books? Do you choose the names based on liking the way it sounds or the meaning?
Names are critical to me! The sound is really important, the meaning much less so. That's okay when I am writing contemporary things, but meaning would be more important in historical works. In Stargazer most of the names are given, so I had to be sure the other ones I used were of the right era and people groups.
Do you have any crazy writing habits like wearing a special hat or taking breaks to stand on your head?
Nope!
Do you ever experience writers block and what do you do to overcome it?
I haven't suffered from writers block – yet. (Crosses fingers, toes, arms, legs, eyes…)
What is your least favorite part of the writing process?
Without a doubt, plotting. I'm just not that good at it.
What writing projects are you currently working on?
I'm writing this year's Easter drama for church (as I do almost every year) and sporadically doing a memoir. I have a science fiction short story kicking around in my head, too.
What question have you always wished someone would ask you about your book(s), but no one has?
"Will you sign this contract to make your book into a movie?"  I'd say yes!
What advice would you give to aspiring authors?
Write! Don't make excuses to yourself (or others) about being too busy or not good enough or whatever. You will never go from "aspiring" to "author" if you don't write! Remain true to yourself. It might be easy to compromise about language or plot for the sake of sales, but will that be the image you want to project? For those of us who are up front in our work about being Christians, this issue is critical and the consequences go far beyond sales. In addition to writing, do things to hone your craft. Learn the rules of spelling, grammar and punctuation (your computer makes mistakes!). Deliberately expand your vocabulary. It's nice to have multiple options for a word. Read the works of famous authors, especially those who write in your genre. The goal here is not to copy their style, but to get a feel for good writing and to learn what works and what doesn't. If you can afford it, attend writers' workshops. Join a local writers' group.  Give yourself writing exercises. Never, never, never give up! Maybe, like me, you aren't the next great American author – so what! Write anyway. Who knows what may come of it.
A little about you:
Do you have a favorite author or an all-time favorite book?
I'm a John Steinbeck fan, but my all-time, over time, favorite book is Wind, Sand and Stars by Antoine de St. Exupery (the guy who also wrote The Little Prince). I'd love to write like Margaret Atwood or the early Francine Rivers. And I love anything by Ray Bradbury and Clfford Simak.
Among your favorite books, which fictional character do you relate to best and why?
Another "guilty pleasures" book for me is Gone With the Wind, and my ex-husband used to accuse me of having been adversely imprinted by Scarlett O'Hara. Probably true…
When you enter a bookstore, what section do you go to first?
I dunno. Whatever comes first, I guess, unless I'm on a mission. I don't like to leave without visiting the Science Fiction aisles.
What books are on your "waiting to read list"?
Everything on the NY Times Bestseller list. Josh Clark's baseball novel, The Streak. The next in the Game of Thrones series.
If you were a super hero, what would your name be? What would your costume look like? What would your super power be?
A young man we met at the county fair one year said I would be Wisdom Woman. I kinda like that! I suppose my costume would be some sort of flowing robes, and my super power would be knowing everything and what to do about it. (Oh, wait! I already know everything! J )
What do you like to do when you're not writing?
READ!!! And talk with friends and new people about most anything. And rock babies. In my younger, healthier days I loved to walk. And I love to go to the beach (in Michigan, not so much Florida). I don't cook, but I enjoy watching Food Network and can talk like a "foodie."
Thanks Mary!